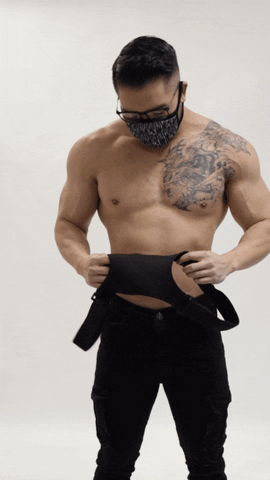 Back Posture Corrector for Men and Women Discreet Under Clothes Comfortable and Effective Clavicle Brace for Neck Shoulder Back Pain Relief Fully Adjustable Spinal Brace for Slouching.
✅IMPROVE YOUR POSTURE! WALK WITH CONFIDENCE! No matter if you are spending multiple hours seated for work or studies, if you are suffering from scoliosis or back stiffness or if you are just looking for a healthy, confident posture this unisex clavicle brace is just what you need. Think of our posture corrector spinal support brace as your own personal trainer which "trains" your body to slowly regain the correct posture by helping you develop muscle memory.
✅TRAIN YOUR BACK! PUT AN END TO PAIN! Bad posture can cause back pain, neck pain, shoulder pain, stress, focus difficulty, poor sleep or low energy. Using our posture corrector thoracic back every day will help you reduce pain, be more confident, realign your spine and regain your body's natural posture. Invest in the quality of an approved back brace.
✅INVISIBLE LIGHTWEIGHT AND DURABLE! Made of the highest quality breathable and durable neoprene materials, this posture trainer feels super soft and comfortable to your skin. The brace also features flexible padded straps that won't dig into your underarms hurting your skin or causing any discomfort, like similar products do!
✅VERY COMFORTABLE AND EASY TO USE! Design with high quality breathable fabrics to minimize pressure of armpits, simple design for move freely as usually and get spine aligned. By using shoulder straps to adjust, you can get it on and off by yourself without requiring help. Perfect fit for men and women, one size fits most..
✅BONUS EXERCISE RESISTANCE BAND FOR STRONGER MUSCLES! Along with our posture corrector shoulder brace, you will also receive a great pull up band that you can easily use at home to improve your flexibility and strengthen your back and supporting muscles. Embrace your new, confident and proud posture. Try it out today!
Perfect for People of All Ages and Fitness Levels.
Wearing a posture corrector no longer needs to feel restrictive with Copper Compression's Next Generation Posture Corrector. Whether you are working out at the gym, commuting to work, or just lounging around at home, this lightweight figure-8 design is non-intrusive and retains your full range of motion while effectively correcting your posture. Using targeted pressure on your back, our copper infused corrector straightens your spine, gently draws your shoulders back, and engages your lower back muscles. Stay active and feel empowered while maintaining proper posture!
Stand Taller, With Confidence
Can be worn under any type of clothing.

Fully adjustable for bodies of all shapes and sizes.

Built with anti-rub materials to decrease itching and discomfort.

Lightweight and breathable design allows for all day and all night use.
Get Targeted Support and Outstanding Pain Relief So You Can Stay Active!
It's no secret that as you age you feel more stiff and sore and it takes longer for your muscles to recover. Simple things like walking and going up stairs can even be challenging to some people as they age... especially people suffering from arthritis, inflammation, or injury. But giving up, doing nothing, and sitting on the couch is NOT the answer. Copper Compression can help you feel good enough to stay active!